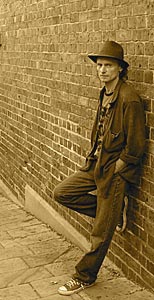 There's a Cat Stevens song that goes, "if I ever lose my eyes, if my colours all run dry….."

If I ever lost my eyes, it would be Noel Gardner's songs that I would want to listen to – to remember how beautiful our part of the world is, to picture the features of our landscape and the creatures that live here.

I'd also be able to catch up on the political news – 'cos if there's an issue worth talking about, Noel's probably written a song about it. Songs that let you think, without needing to toughen up inside. He'd also be the man I'd listen to, to find out how our government is treating indigenous people, and anyone else who doesn't fit the mainstream mold.

Noel's song 'Refugee' won second place in the 2004 Australian Songwriters Awards Acoustic Category.

In 2005, he's just won first place in the Lyrics Category for "Stolen Children". That's the song he sang to 5,000 people at Brisbane's Sorry Day concert in 1998. He's also been a finalist in "Song of The Year". See what I mean?

As Judy Small (Australia's own political folk diva) says "Noel Gardner speaks and sings softly but don't be fooled. This is a man with important things to say".

Noel is the only solo performer to have performed at every one of the 18 Maleny/Woodford Folk Festivals – and his music is as fresh and relevant now as it was in 1989, when he teamed up with Mark Gillett to record the iconic "Watching the Obi Flow' (the very same platypus-friendly Obi Creek that's about to be inundated by a Woolworths shopping development - so of course Noel's written a song - Autumn in Maleny - for the protest).

His capacity to sing of both beauty and injustice is a refreshing reminder to keep thinking about what kind of world we want to live in – and what kind of world we want our kids to inherit from us. He is widely respected for his stylish guitar playing and emotive lyrics, some of which are inscribed on a painting of Mt Coolum that hangs in the foyer of The Nambour Civic Centre.

And he practices what he preaches. Noel has been a long time environmental activist on the Sunshine Coast, and in 1994 was awarded Life Membership of the Sunshine Coast Environment Council for his contribution to the environment through his music. Now that's an award to be proud of.

Noel has released 2 CDs over the past 10 years, and both of them are polished, elegant representations of his work: delicate production, warm voices, sensitive instrumentation. A joy to listen to. His new one will prove no different.

In concert, Noel is delightfully understated. I don't think he has much time for the notion of glamour – and it's a welcome relief. Over the years, Noel has played support for folk like Christy Moore, Paul Kelly, Kev Carmody, Judy Small, Judith Durham, Vin Garbutt and Kristina Olsen. No-one else would have been a better choice.

He gets regular airplay on ABC Coast FM and other discerning stations around the country.

He has been called Australia's Pete Seeger, and the Sunshine Coast's Paul Kelly – and like them, he is probably only appreciated fully by a small proportion of the general population. But that proportion is an important and growing one, and graces Australia's national folk festival circuit.